If you're looking for something affordable that still offers fantastic value, the HP AERO isn't just one of best HP laptops, it's one of the best laptops. It delivers on all the essentials and even has a couple of extra features that make it a no-brainer for almost anyone on a budget.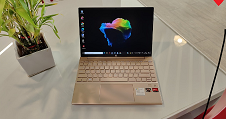 PERFORMANCE
The HP Pavilion Aero is the only laptop on this list to be powered by an AMD processor, but that's far from a bad thing. It's packing AMD's latest Ryzen processors, including your choice of a Ryzen 5 5625U or a Ryzen 7 5825U. That means you can get up to 8 cores and 16 threads on an affordable thin and light laptop.
These aren't AMD's latest processors out there, but they are slightly enhanced versions of the previous models, so you're getting a lot of performance for a very low price. Aside from the processor, you can also configure this laptop with up to 16GB of RAM and a 1TB SSD.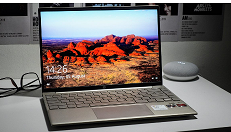 DISPLAY
   It starts with a Full HD+ (1920 x 1200) panel in the base configuration. Yes, it has a 16:10 aspect ratio, and while that's become more common in the past few months, it's still very nice to see in such an affordable laptop. Most laptops at this price still have a more typical 16:9 display, so this one definitely stands out if you want something that's better for productivity.
An unfortunate downside of this laptop is the webcam, which is still using a 720p camera. It's not going to get you amazing image quality, though it's serviceable. Plus, it also lacks Windows Hello facial recognition, but there is a fingerprint reader if you want an easier way to unlock the PC.
DESIGN
  What you do get here is an incredibly lightweight design, which is another rarity for a budget laptop like this, especially when it already gets so much right. It's made from a magnesium alloy, and that allows it to start at less than 2.2lbs, or less than 1kg.
It includes a solid selection of ports too, including USB Type-C, two USB Type-A, HDMI, and a headphone jack. There's no Thunderbolt support because this is an AMD-based laptop, but that's to be expected, especially considering the price of this device. There's also a fingerprint reader built-in, so you get some form of biometric authentication at least.