A lot of people usually ask this question, but the truth is leaving your laptop on overnight is not bad but during this it might encounter some little issues. The computer might over heat and it will in turn drain the battery quickly.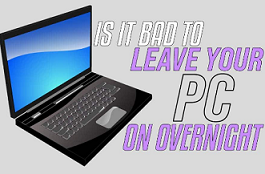 REASONS WHY YOU SHOULD TURN IT OFF WHEN NOT IN USE
It consumes power, especially when plugged to the electricity supply
It reduces the lifespan of your system like the time or years the system is expected to last for
performance generally benefits from an occasional reboot
You might not want to be disturbed by noises from notification that comes when the system is on
WHAT TO DO IF YOU WANT TO LEAVE YOUR SYSTEM ON OVERNIGHT
If you might want to leave your system on overnight make sure to put it on sleep or hibernate mode because this will help to put the system on low power state without turning it completely off. In this process the computer stops using power and resumes where it was when you put it in that mode, hibernate is a less desirable option because it produces wear and tear which is similar to start and stop.

SLEEP MODE
If you are going to leave it on make sure that you check out the sleeping option in the power menu. You could save a lot of power with no real downside or downward tendency.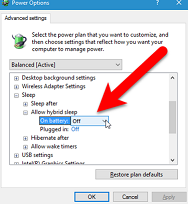 HOW OFTEN YOU USE IT
If you use your computer multiple times per day it is best you leave it on but if you use it for a short while like an hour or two or just once a day it is best to turn it off after use. Leaving your computer on is less stressful than turning it off and on several times a day, every time a computer powers on it has a small surge of power as everything spins up and if you are turning it on multiple time a day, it shortens the battery's life span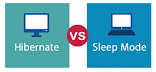 Lastly frequent shutdown and start up may presumably impact the component and wear them out faster, on the other hand leaving your system running all the time may contribute to wear and tear of the system.