HP also caters to gamers with its Omen lineup of laptops, and the Omen 17 is the cream of the crop if you want to get into gaming. It offers powerful specs in a clean and sophisticated design, and it has a large screen so you can get even more immersed.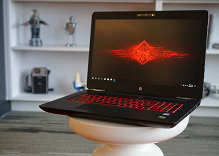 PERFORMANCE
You can get the latest OMEN 17 with up to an Intel Core i9-12900HX processor. That's an incredibly powerful 55W CPU with 16 cores and 24 threads, capable of boosting as high as 5GHz, so you get all the performance you need and then some. On top of that, you can configure it with up to an NVIDIA GeForce RTX 3080 Ti laptop GPU, so it's safe to say all your games will run flawlessly and likely at very high frame rates. Plus, you get up to 32GB of RAM and 2TB of storage. If you have the money for it, this is a beast of a machine in its top-tier configuration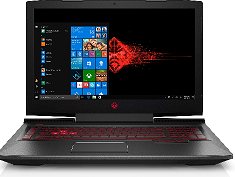 DISPLAY
Oddly enough the display doesn't offer configuration options, but the one you get is pretty great. It's a Quad HD (2560 x 1440) panel and it has a 165Hz refresh rate, which is a great mix of resolution and speed. It makes this a great laptop for both gaming and work, and with the powerful hardware inside, you can comfortably drive this display to its maximum while still keeping quality settings high in most of your games.
Previous OMEN models had chunky designs, but the latest iteration looks sleek and refined. The lid only has a gradient OMEN logo, and otherwise could easily go unnoticed in a business environment. Of course, it's still a large machine, measuring nearly 27mm in thickness and starting at 6.17lbs of weight, but it looks great. You get an RGB backlit keyboard and full-size arrow keys that are isolated from the rest of the keyboard to avoid missed keypresses. The backlight can be had in a four-zone configuration or the pricier per-key option too.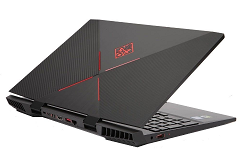 EXTERNAL FEATURES
You also get a healthy supply of ports. There are three USB Type-A ports (which many peripherals still use), a Thunderbolt 4/USB-C port, HDMI 2.1, mini display Port, Gigabit Ethernet, microSD card reader, and a headphone jack. Plus of course, a proprietary power connector since the charger used here is significantly more powerful than what USB Type-C can deliver. That gives you about everything you need for your gaming setup, plus Thunderbolt 4 gives you the option to expand even further if you want to use a desktop-level GPU or more monitors.