Before we start this discussion properly, there are different things to look out for when choosing a laptop meant for art.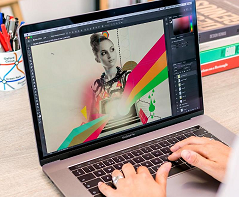 THE PROCESSOR
The processor is one thing to look out for when choosing a laptop for an artist. Intel processors are the golden standard if you are choosing a device that can deal with heavy 3D model. The best option is the Core i7 with 6 cores that can easily cope with all kinds of tasks in Z-Brush and other software. Basically, you should be looking for a multi core CPU and the 6core 8th and 9th generation intel core i7 processor is the perfect one.
MEMORY
The memory is also very important for art, especially if you want to sculpt highly detailed character. 8GB of DDR4 RAM should work just fine, but I recommend getting 16GB RAM if you want to forget about lags. You need to give your program more memory to let them handle more data in no time. And don't forget the requirement for the tools you want to master.
GRAPHICS CARD
A powerful graphics card is not as important as CPU and the processor, but it is still a major factor especially if you want to work with real-time devices that rely on GPU for example work on high resolution textures in substance painting. An NVIDIA GeForce GTX 1650 4GB OR 1660Ti 6GB would be enough if you are a beginner willing to learn basic tools but you might want to get one of those fancy RTX cards. First, you get to play with real-time raytracing in unreal engine (don't forget all those awesome games with RTX support). Also, the RTX series features an advanced architecture that brings a boost compared to older GTX cards.
STORAGE
The storage is also another critical component and you should be looking for an SSD that is perfect for the task. Choosing a SATA iii SSD or PCIe NVME m.2 is a smart move here. Please ensure that you install your OS and 3D tools on the SSD for the fastest loading times.
SCREEN
The ability to display a better color palette improves the accuracy and quality of your projects and gives you a better advantage when working on textures and rendering characters, setting up lighting, and so on. Accurate color adobe RGB screen might be expensive but if are willing to get the best out of your work then you should consider buying it. Such screens will help you with color grading, creating contents and other similar tasks. Now that you what to look out for when choosing an artist laptop lets check out the laptops that are best for artist;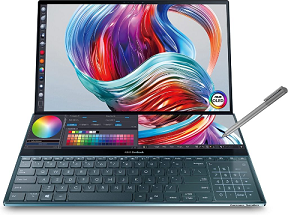 APPLE MACBOOK
The storage size is enough to do anything you want. 4GB memory space is acceptable to take every storage operation. the estimated battery lifespan is 14 hours indication
Asus ZenBook Pro 14 Duo UX482E:
It has 32GB installed RAM which allows you to store any data compatible with achieving the crucial system aspects.
Lenovo IdeaPad Duet Chrome Book:
It has 4GB random access memory.