To increase your laptop's hard drive, you can follow the following procedures
DELETE JUNK FILES
This is like the simplest way to increase your laptop's storage. There are some files in the laptop that's not useful for it such temporary MS word files, duplicated files and so on. These files can pile up in your disk drive, reducing the storage available. These files slow down the operating system since it would have to search through numerous files to get the required file. Well, the good thing is that you can easily locate and get rid of these files;

MAKE A FULL BACKUP FOR YOUR SYSTEM
Create a system backup in windows 10 by going to the control panel (tap the win + x keyboard shortcut and select control panel), then save backup copy of your file with file history (under system and security) in the left menu, go back to system image backup to create a system image on an external drive or network location.

Move away large folders that don't need to be kept on the SSD: your hard drive is higher than the SSD you are transferring to (for example moving from 500GB HDD with a lot of media files to 120GB SSD) if this is the case than move higher folders such as folders containing your photos, videos, games, and personal documents to an external drive or other locations to make enough space on your drive for cloning the smaller SSD.
CLEAN UP YOUR DRIVE
Make sure you uninstall irrelevant files or files you don't want to be carried over to you SSD. Make one last uncluttering sweep with free ware CCLEANER, which will help you to delete old temporary files and other space hogs, or at the very least run window's disk cleanup (in windows search- look for disk clean up, then select free up disk space on this PC.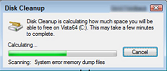 CONNECT THE SDD
At this stage, it is time to get the SSD set up for the cloning process. Place the SSD in the enclosure or connect it to the USB-to-SATA adapter, and then connect it to your laptop with the USB cable

INITIALIZE THE SSD
If the SSD doesn't show up on your computer with a new drive letter, head to window's disk management tool. Bring up windows search again then look for disk management, then chose create and format hard disk partitions. In disk management you should see the SSD as a new disk under the current one. If it states not initialize, right click on the drive and select initialize disk.
CLONE YOUR HARD DRIVE
Select the source and destination drives in the cloning software: select the clone option from the menu. Then follow the wizard to select your source disk(your HDD) and your destination(your SSD).