Do you want to start digital marketing in Nigeria? then this article is for you. Before I proceed on this, it is important to define the key word. First, digital means anything that is computerized. While, marketing is as the act of promoting and goods and services. Digital marketing can be defined as the act of promoting and selling online through social media, blogs and others. To be a digital marketer, you need computer (phone or laptop), internet and digital marketing skills. This is a profitable business because, it does not require an office or firm. You can start a digital marketing business at home.
There are some factors that determine how much a digital marketer will earn which are: his or her experience in digital marketing, how long he has been in the business, the kind of contract sealed. Digital marketers in Nigeria can earn 50,000 – 200,000 monthly
HOW TO START DIGITAL MARKETING IN NIGERIA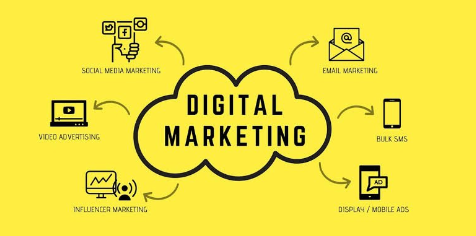 GET THE REQUIRED TOOLS
There are tools you need and must have like having a smart phone or better still a laptop. You can have only a phone but its better you also have a laptop aside from a phone because, a laptop makes you look more professional but when you are not with you are not with your laptop or you are somewhere away from your laptop, you can use your phone. As a digital marketer make sure you are always online, this means you should always have data subscription on your phone so that it will be possible for customers to be able to reach you anytime. Internet is the lifeline of a digital marketer
ACQUIRE DIGITAL MARKETING SKILLS:
After you've gotten the necessary tools to begin digital marketing, the next step is to acquire digital marketing skills. You can learn it online by watching free videos on YOUTUBE and you can also learn by reading blogs about digital marketing. If you feel you don't want to learn it online, you can learn from digital marketing agencies in Nigeria by visiting their site to register either online or in their office.
LEARN AND DEVELOP SKILLS:
What ever you learn online or from the marketing agencies, you should put it into practice because, Practicing gives you the ability to learn better. The more you do this, the able you are to update yourself in the current digital marketing world and adapt to new changes or methods of digital marketing
REGISTER YOUR BUSINESS: the registration of your business is very important especially if you want to have a physical center where you want to impact knowledge to people. The first step to take in order to register your business is to give your business a name that will stand out from the rest. To register your business in the cooperate affairs commission you will need a passport, a utility bill and more. During the registration you have to consider if you want to operate fully online or fully offline or you want to operate on both, this will help you to manage your expenses and your tax.
SET UP PROFILES: whether you operate fully online or not, as a digital marketer you need a website where customers can easily locate you and a social media account where you can share your ideas or your views. If you can do this yourself then there is no problem but if you can't, you can hire a website developer to build it for you. placing ads will also help you.
START SEALING CONTRACTS OR DEALS FROM CLIENTS: as a digital marketer you can't just sit at a spot and expect customers to notice you. You have to promote your business so that you can attract customers. As a beginner coming into partnership with other digital marketing agencies will help you to get more customers.