The Samsung notebook 7 is a laptop that gives the user a very wonderful experience. At first glance, the Samsung Notebook 7 Spin is the most beautiful convertible 2-in-1 on the market. When you really take a good look (and go hands-on), that facade starts to crack. if you care about style, the Notebook 7 Spin has it in spades, and the performance from its Core i7 processor and Nvidia GeForce 940MX graphics card may be enough for you to overlook its shortcomings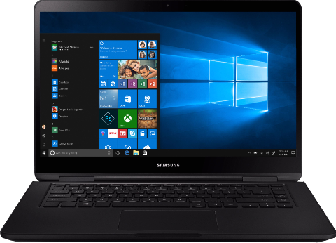 DESIGN
The Notebook 7 Spin is the most adoring 2in1 laptop The silver aluminum chassis is built solidly and the rounded edges are inviting and attractive. Opening the reflective plastic lid reveals the 15.6-inch, 1080p touch screen and a full island-style keyboard with number pad. Unlike the smaller Samsung Notebook 9 Spin, which has two hinges, the Notebook 7 flips around a single hinge with the computers name on it. The whole package looks quite a bit like a MacBook but Apple doesn't make a 2-in-1.
PORTS
The sides of the Notebook 7 Spin feature all of the ports you need for work and play. The left is home to the power jack, an Ethernet jack, HDMI output, USB 3.0 and Type-C ports and audio output. The right is where you will find two USB 2.0 ports, an SD card slot and space for a security lock.
DISPLAY
The display on the Notebook 7 Spins 15.6-inch, 1080p display is extremely sharp but not as vivid as its competitors.
RAM: 16GB of RAM to aid storage
Full HD (1920×1080) displays
802.11ac wave2 2×2 Wi-Fi
720p webcam
Stereo speakers with Dolby Atmos
Fingerprint reader
Connectivity: One USB 3.1 Type-C, two USB 3.0 Type-A, HDMI, microSD
The good thing is that you can buy this laptop at ANIK COMPUTERS or visit aniklimited.com for more enquiries